Name Of Creature:
Aura Bug
Level of Creature:

1
Class:
Insect
Habitat:
Air/trees/forest
Picture:
My crappy rendition of what it looks like: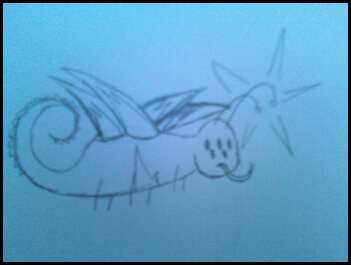 - It omits a light from its antennas.
- The color of the light changes randomly.
- It has a forked tongue, like a snake.
- The colors of its body can vary, depending on where it lives, between yellow, orange, brown, and black.
- It has six legs.
- It has five eyes.
It Eats:
It's an herbivore, usually feeding on the leaves of low-hanging trees. Occassionally it'll eat flowers.
Characteristics:
Doesn't harm people, mostly just flies around. It's a carefree creature, kinda like "I don't care if you're here, I'm gonna fly here anyway. What do I have do lose?"
Nocturnal Or Not:
Yes.