Nothopsis Kakos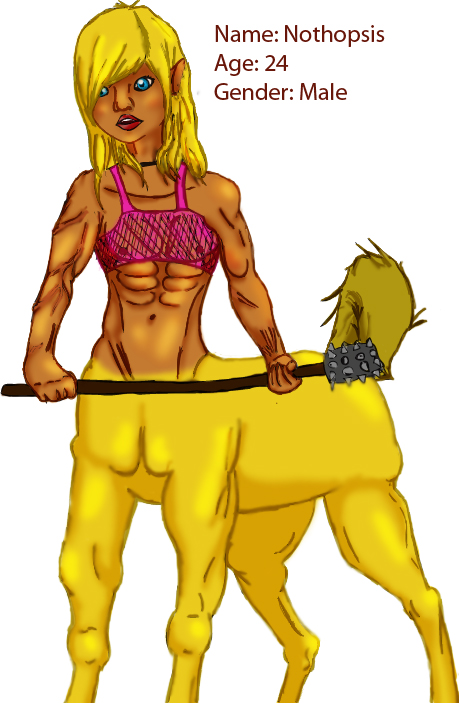 Age: 24
Height: 9' 2"
Weight: 230 pounds
Biography: Born and raised on the Greek island Lapiths Nothopsis lived a care free
life. Partying, drinking, laying with many women and men he had a
paradise. There were almost no rules in this kingdom, but people's "morals" and way of thinking caused a handful of people to get banished from the land. Near the age of sixteen, Nothopsis realized he could never feel truly happy as a male centaur. He began wearing brightly colored feminine clothing and acted more and more womanly every day. His parents disowned him, telling him that he has brought them shame and he was never to return. Although being bisexual was welcomed, dressing as
your opposite gender was not. Looking for full freedom, Nothopsis sailed
across the sea.
Five years of traveling Nothopsis accidentally slipped into the realm of Terra. Myren took him in almost right away and gave him a place to live, frolic, and live out his life without any restrictions. Now he trains every day (mostly for fun) and does everything he can to keep Terra the paradise he sees it as.
Strong points: Running long distances, making friends easily, intimidating people, having a good sense of humor for almost anything.
Weak points: Hand-to-hand combat, killing small animals, people that don't like transvestites.
Fighting style: Two-handed melee weapons, throwing knives, archery
Favorites: The color pink, fine cuisine, taking walks along lakes or beaches, partying, keeping things in order.
Hatreds: Arrogant people, ants (if they attack his legs he has an extremely hard time getting them off), giants
Fears: Being killed for no reason, losing any of his close friends, being eaten by a giant, drowning
Level: 100
Strength: 175
Speed: 225
Intelligence: 110
Magic: 15
Extra: Notthopsis is one of the protectors of Terra, and will fight to the death to protect it.